Plantar Fasciitis: What Really Goes On
posted: Sep. 11, 2018.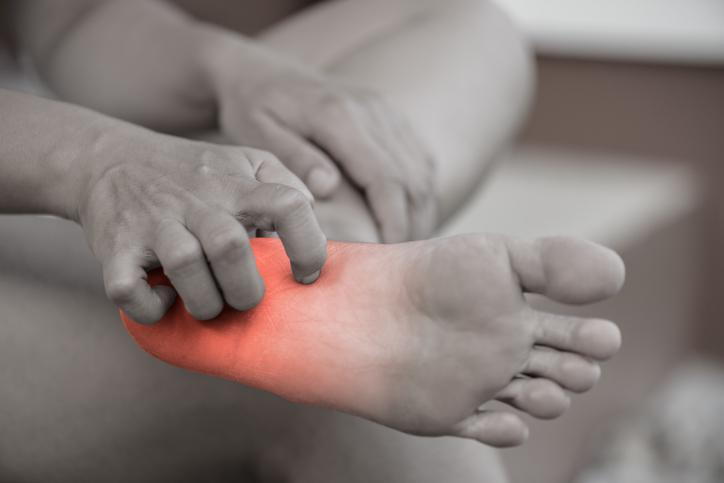 Have you ever felt any pain in the bottom of your heel? It can be caused by plantar fasciitis. The plantar fascia is a thick ligament that connects the heel to the front of the foot. It is the part the supports the arch of the foot and helps us walk.
Plantar fasciitis is a common orthopedic complaint. Our plantar fascia ligaments are no stranger to wear and tear, especially since our feet do a lot of work on a daily basis. Normally, plantar fascia ligaments act as shock absorbers. They support the arches of the feet. If there is too much pressure on the feet, then the ligaments can be damaged or torn, resulting in an inflamed plantar fascia. The inflammation, then, causes heel pain and stiffness.
SYMPTOMS OF PLANTAR FASCIITIS
Generally, the major complaint of patients with plantar fasciitis is the pain on the bottom of their heels. Some people also experience pain at the bottom of their midfoot area. At first, it can affect just one foot and eventually, it may affect both feet.Some patients experience dull pain, while others, sharp pain. Some patients can even feel a burning or ache on the bottom of their feet extending outward from their heels.
The pain can usually be felt (and is worse) in the morning when the first steps for the day are taken, or if one has been lying down or sitting for a while. Climbing stairs can also be extremely challenging due to heel stiffness.
After prolonged activity, the pain and inflammation may increase. One may not feel the pain during the activity, but once that person stops with the activity, then the pain will start to kick in.
THE CAUSES OF PLANTAR FASCIITIS
If a person is overweight or obese, then he or she is at a greater risk of developing plantar fasciitis. For overweight patients, there is an increased pressure on the plantar fascia ligaments. Pregnant women mayto experience bouts of plantar fasciitis, particularly around the time of late pregnancy.
Long-distance runners or athletes who use their feet and put too much pressure on their feet are also more likely to develop plantar fascia problems. Those who have an active job that involves being on their feet may also be at risk.
HOW PLANTAR FASCIITIS IS DIAGNOSED
Our podiatrist, Sheldon H. Nadal, DPM will take a thorough history and perform a physical exam to check for any tenderness in your foot as well as the exact location of the pain rule out other foot problems. He may ask you to flex your foot while he pushes on the plantar fascia to see if the pain worsens when you flex and betters when you point your toe. He will also note if you have any mild redness or swelling.
You should not suffer from plantar fasciitis. Sheldon H. Nadal, DPM can definitely correct this foot problem! Set up an appointment with him today!
Tags: plantar fasciitis,&nbsp Heel pain