A Quick Guide to Women's Shoes
posted: Aug. 07, 2018.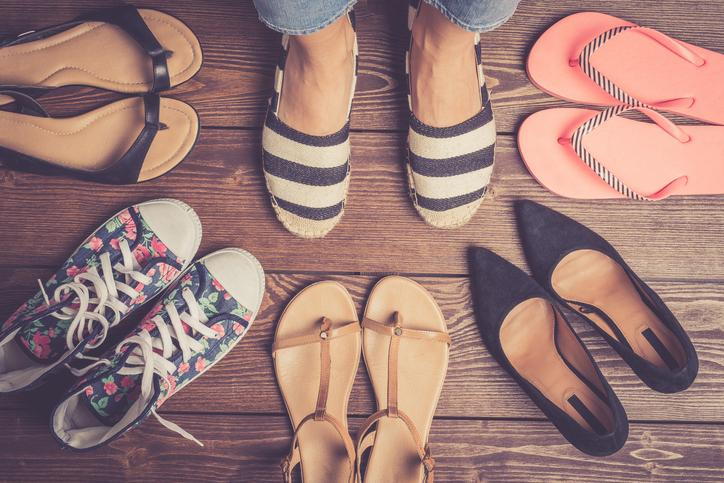 There are different styles and types of shoes that women can choose from. This can often make it a bit challenging when deciding what to buy. At the end of the day, what you want to have is something comfortable, sturdy, and trendy. In addition to having a large variety to choose from,  you also have to match your shoes to the occasion. What is appropriate for one event might not be suitable for a different one.
There are some rules that should be followed, but there are not always set in stone. You might be able to find some leeway when trying to decide which footwear you should wear.
Here are some tips on how you can choose the right shoe for a particular occasion:
RUNNING ERRANDS
Will you be running errands? Then you need to have footwear that is comfortable and something you can spend a long period of time in. If you want to make the most of the time available to you, you may choose running shoes or other athletic shoes. This type of footwear offers a great deal of support and it will not leave you wincing in pain at the end of the day. If you, however, still want to be a bit stylish, you can always go for a comfy pair of flats.
OUTDOORS IN COLD WEATHER
During the winter, you want to stay as warm as possible. This means that you should have footwear that is well insulated from the inside. You might want to get a pair that is waterproof or a pair that will prevent your feet from getting wet. This type of footwear will keep your toes toasty even in the harshest weather. If you want a pair that is a little more upscale, then you should consider getting boots but in a different style. To stay as warm as possible, choose boots that come up to your mid-calf or even higher.
OUTDOORS IN WARM WEATHER
During the summer, wearing boots insulated footwear is definitely a no-no. It is best to have a pair of comfy sandals when going out and about. Make sure that you wear sandals that provide support to your heels and arches so you will not experience any pain at the end of the day. You may also go for flip-flops but make sure to limit the time you wear them as they can cause damage to your feet if you wear them for a long time.
EVENING EVENT
The most common footwear for events such as cocktail parties, galas or dinners are high-heeled shoes. They look elegant and they also provide the boost that you need, especially if you are wearing a long dress. There are still other options that you could choose from if you are not fond of wearing heels. High-heeled shoes can actually be quite harsh on the feet. A more comfortable option you can go for would be wedged shoes. This type of footwear has a sturdier heel and it can also support your balance better.
Remember, trends are changing so this means that you do not have to stick to the same style for each event. There are now different footwear options available to women. Make sure that when you are choosing shoes of any kind, foot comfort should always be your main priority and the style should only come second to that.
Tags: Shoes,&nbsp womens shoes,&nbsp women shoes