All About Plantar Warts
posted: May 30, 2018.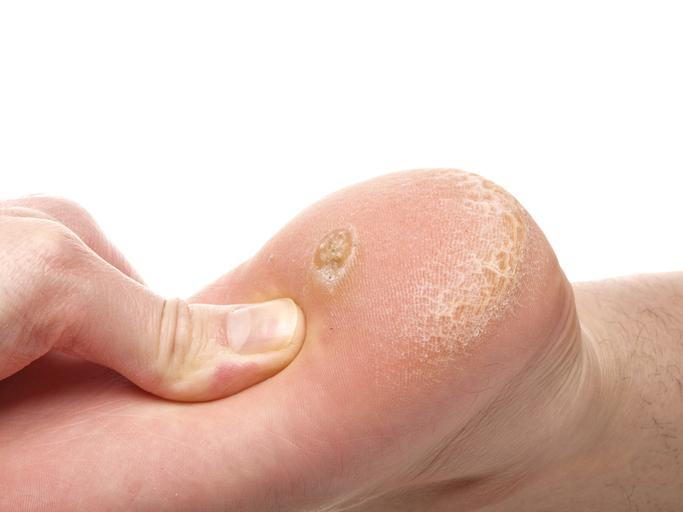 Plantar warts are those warts that develop on plantar surfaces - the soles or bottom of our feet. Normal walking and standing tend to force plantar warts into the skin, and the pressure can cause pain to the affected areas. Calluses that are formed due to the body's attempt to prevent the spreading of warts can also cause pain when walking.
In many cases, they can be too painful to ignore. Plantar warts that form together in a cluster are known to be 'mosaic warts'.
What Causes Plantar Warts?
Plantar warts, just like all warts, are caused by a virus that invades the skin through tiny scrapes and cuts. Warts might not appear for weeks or even months after the initial exposure. Just like other viral infections, plantar warts are also contagious. They are commonly spread in public areas such as swimming pools and communal showers, sometimes even in your own shower at home.
Epidemics of plantar warts can also sometimes break out among people who go to the same gym or who use the same athletic facilities, or even those who engage in group activities where you are required to go barefoot like martial arts and yoga.
Since most people build immunity to this virus with age, plantar warts are more common in children compared to adults. They are also common in people who have weaker immune systems such as those with HIV or AIDS or people who take immunosuppressive medications.
What are the Symptoms of Plantar Warts?
*Bumpy growths on the soles of the foot, mostly small in size; sometimes, tiny black dots can be seen on the surface
*Pain in the soles of the feet when walking or standing
*The affected area becomes, red, painful, hot and tender to touch after treatment, this means that an infection might have set in.
*You are unsure if you have a plantar wart or a different foot condition such as a callus, corn, skin lesion, or mole. Most foot growths are harmless, but some can also be problematic. Do not ignore such growths.
What are the Treatments for Plantar Warts?
Choosing how to treat your plantar warts might depend on your ability to tolerate the pain of different treatments. Conventional treatment involves removal, while there are alternative approaches that focus more on gradual remission. Whatever you do, it is important that YOU DO NOT try to cut off a plantar wart on your own because you might injure yourself and have cuts in your skin will only allow warts to spread.
If you are suffering from plantar warts, or if you want to be sure on the growth on your foot, it is best to consult our podiatrist, Sheldon H. Nadal, DPM at your earliest convenience.
Tags: Foot Pain,&nbsp Foot Care,&nbsp plantar warts,&nbsp warts