Foot and Ankle Pressure Ulcers: What You Should Know
posted: Aug. 24, 2016.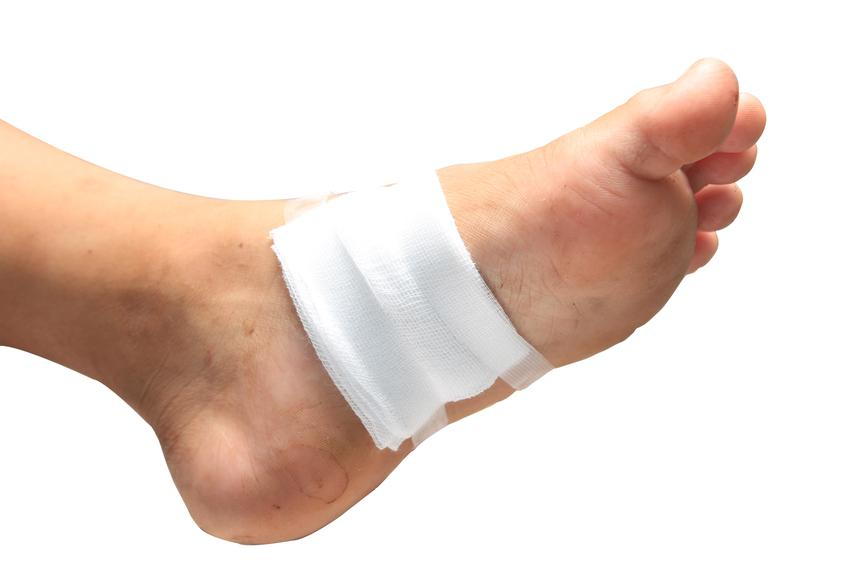 Pressure ulcers (sores) form on parts of the body where something presses or rubs against the skin constantly and for long periods of time, causing the skin to break down. They often develop on parts of the body where the skin is stretched tightly against a bone (heel or the ankle bone).
Symptoms of Pressure Ulcers
Pressure sores found on the feet and ankles begin as areas of red and inflamed skin. A blister develops over time when the inflammation gets worse. The blister can become an open sore if left untreated. Compromised skin is susceptible to infection and it can eventually affect the entire body.
Pressure ulcers can be categorized according to severity:
*Stage 1: An area of skin usually right over a bone does not turn white when pressure is applied to it with a finger or another object. This might be difficult to detect in people with darker skin, although the affected skin might appear blue or purple. Regardless of the skin color, however, the skin will be tender to touch, and it might be slightly warmer than the surrounding skin.
*Stage 2: The outer layer of the skin or the epidermis is severely damaged, and in some cases, might even be gone. The affected area becomes a blister, and eventually, an open sore. The surrounding skin of the blister or sore might appear red and inflamed.
*Stage 3: Tissue loss becomes more apparent during this stage. Muscles and tendons are not yet exposed but subcutaneous fat might be. The sore is now a sunken hole at this stage and is also referred to as a crater.
*Stage 4: During this stage, the sore is now deeper, and there may be damage to tendons, muscles, and even the bones.
Why do pressure ulcers develop?
Pressure sores on the ankles and feet are caused by pressure that limits the blood flow through the skin in the affected area. This can occur more often in people who are less mobile – people who are bedridden or confined to wheelchairs. Pressure from the affected person's weight against the bed or the surface of a wheelchair can cause pressure ulcers.
Risk Factors
People who have fragile skin (especially the elderly) are at additional risk for pressure ulcers. People who have poor nutrition are also at risk as well as diabetic patients. Pressure sores are common among the disabled because they have impaired sensation of touch and pressure due to spinal cord injuries. They might not be alerted by pain or discomfort to the need to change their position.
People who are bedridden for extended periods of time might also lose a significant amount of weight. This reduces the cushioning around their bones, thus making them more susceptible to pressure sores.
If you are suffering from pressure ulcers on your feet and ankles, it is best to setup an appointment with Sheldon H. Nadal, DPM. He specializes in these concerns. 
Tags: ankle pain,&nbsp pressure sores