The Top Causes of Bunions and How They Can Be Avoided
posted: Sep. 08, 2014.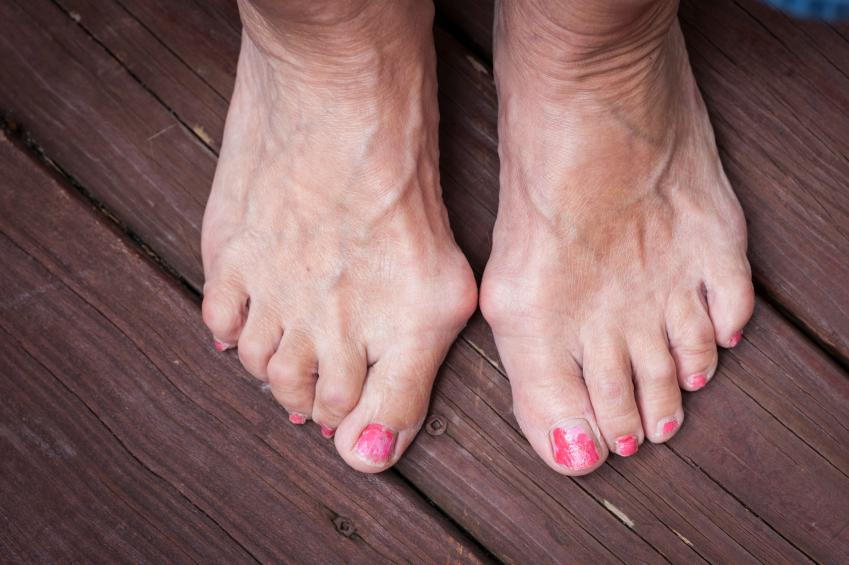 Bunions are an enlargement of the tissue or bone that connects your big toe to your foot. When the bones, muscles, ligaments and tendons of this part of the foot are all operating in the proper balance, your body weight is distributed evenly when you stand, walk, and run. When this joint experiences a higher-than-normal level of stress over a prolonged period of time or the toes are squeezed while wearing a shoe, the joint becomes deformed and the bunion appears.
Top Causes of Bunions
            •           Wearing shoes that squeeze don't allow ample room for toe movement
            •           Low arches in the feet or flat feet
            •           Certain forms of arthritis
            •           Issues with foot mechanics
            •           Foot injuries
            •           Some disorders, such as cerebral palsy
Genetics also play a role in whether a person is likely to develop bunions. The bunions themselves don't run in families, but issues with foot mechanics can be inherited, and they can increase the risk factor for this foot issue.
How to Avoid Developing Bunions
Keep in mind that it takes years for bunions to develop. To protect your feet and reduce the risk of developing this condition, make a point of avoiding shoes that are too narrow and that pinch the toes. Look for footwear that has a wide and deep area around the toes and low or flat heels.
Good arch supports are also important when choosing shoes to lower the risk of developing bunions. If the shoes are tight, narrow, or too high, it will put pressure on the big toe joint.
Supportive shoes or arch supports may be required to prevent the foot from rolling inward. A podiatrist can examine your gait and determine whether this treatment is right for you. Custom orthotics can also help to prevent the foot from rolling when you walk or run.
If you are consulting with a podiatrist about foot pain and are concerned that you may be at risk for developing a bunion, it's important that you bring the shoes you normally wear with you to your appointment. The podiatrist needs to see what you are wearing in case your shoe choices may be contributing to the problem. Making some changes in your choices of what to put on your feet can save you from pain and discomfort later on.
Are you concerned about the condition of your feet now? Sheldon H. Nadal D.P.M. can provide foot care for you and your entire family. To arrange an appointment, please fill out our appointment request form.  
Tags: plantar fasciitis,&nbsp Heel pain,&nbsp podiatrist,&nbsp bunion,&nbsp ingrown toenail,&nbsp Toenail fungus,&nbsp orthotics