Anatomy of a Shoe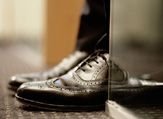 Understanding the basic construction of shoes will help you make more informed decisions and select shoes that fit your foot and needs.

Shoes are made up of five major components:
The toe box is the tip of the shoe that provides space for the toes. Toe boxes are generally rounded, pointed, or squared and will determine the amount of space provided for the toes.
The vamp is the upper middle part of the shoe where the laces are commonly placed. Sometimes Velcro is used instead of laces.
The sole consists of an insole and an outsole. The insole is inside the shoe; the outsole contacts the ground. The softer the sole, the greater the shoe's ability to absorb shock.
The heel is the bottom part of the rear of the shoe that provides elevation. The higher the heel, the greater the pressure on the front of the foot.
The last is the part of the shoe that curves in slightly near the arch of the foot to conform to the average foot shape. This curve enables you to tell the right shoe from the left.
The material from which a shoe is made can affect fit and comfort. Softer materials decrease the amount of pressure the shoe places on the foot. Stiff materials can cause blisters. A counter may be used to stiffen the material around the heel and give added support to the foot.